---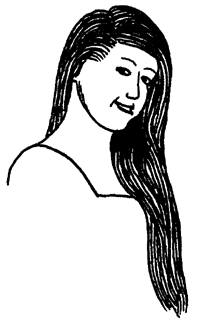 Amy
---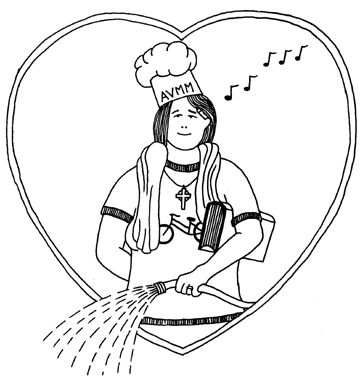 Portrait of my Mom
This one deserves a bit of an explanation. I drew this about 15 years ago, at my mom's request. She wanted it to use as a template for an autobiographically embroidered panel of cloth she was making, to become part of a quilt with each panel being about the member of the sewing circle who had created it. So together, we worked out all the symbolism, and I cartooned her up within the limitations of my own abilities and my understandings of what she could accomplish with embroidery.
The chef's hat symbolizes her passion for cooking, and the curious acronym "AVMM" upon it stands for "Ancient and Venerable Mrs. Mommy", a strange term of endearment bestowed by my brother Jeff (and for some reason embraced by the AVMM). That pencil tucked behind her ear denotes her love of writing, and the 5 musical notes are for her 5 children, as well as her love of music. (The notes are staggered by the ages of the kids; I'm the fourth from the right, a new arrival after a longish gap.) Around her neck is both a towel, denoting her love of swimming, and a Celtic cross, a reminder both of her deep Christian beliefs and her love of all things Irish. Her T-shirt shows that she's an avid bicyclist, she's got a book under her arm because she loves reading, and of course, her garden must be kept watered. Lastly, the wedding band is for her husband of (now) 50 years.
(I love you, Mom! Happy Birthday!)
---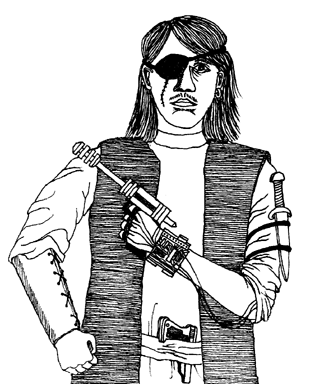 Self Portrait as Time Pirate
[costume design sketch]
---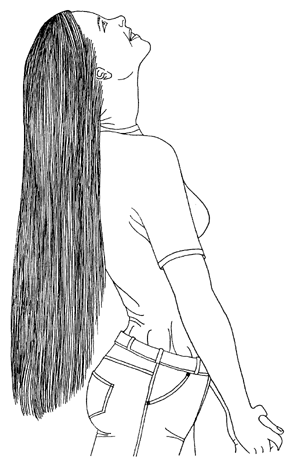 The UnNude
---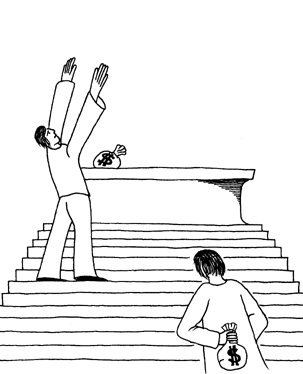 Luke 18:9-14
[Ager Road UM Church bulletin cover, Oct '86]
---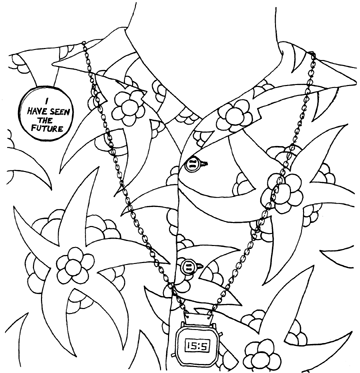 Self Portrait
---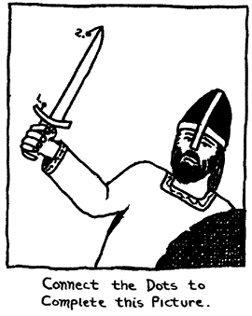 World's Easiest Connect-the-Dots Puzzle
---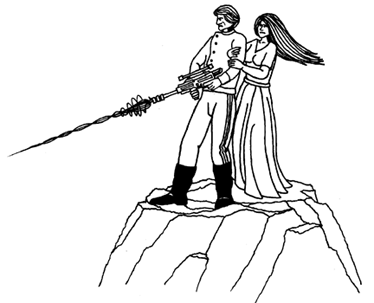 Laser Battle on the Mount
---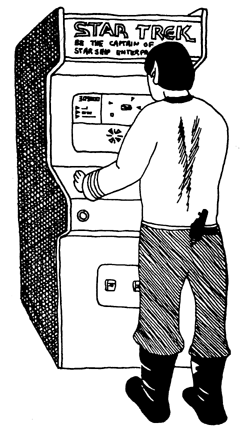 Mr. Spock plays the Star Trek video arcade game
---
Copyright © 1999-2001 By Andrew Looney.