The gaming format now known as LARPing (Live Action Role-Playing) got its start in the early 1980s, and I was there. I was the first player in the first "Interactive Literature" game, run by the Society for Interactive Literature in Boston in February 1983. During the eighties and nineties I played many characters, some quite infamously, in over 50 different games. I even co-authored and ran about 10 of the earliest IL games. Then I got busy doing Looney Labs, and no longer had time for LARPing. But I have many fond memories...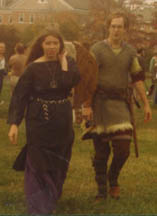 The origins of the modern LARP are numerous... various groups were independently trying out different ways of role-playing in the late 70s and early 80s, all of which, it could be said, came together as the hobby we now call LARPing. Some of the inspirations for it are still active now, more or less in their original forms... I would argue that groups like the SCA and the Markland Medieval Mercenary Militia helped inspire modern LARPing. (So did the stories, bogus or not, about kids who started crawling around in storm drains and underground tunnels, seeking to play D&D "for real.") Indeed, the gaming weekends now put on by groups like Darkon (and other padded-weapons groups) are very much like a combination of a classic Interactive Literature game with the medieval camp-outs and battle reenactments that I was involved with in my early college days. (I joined the Markland group in high school and was active with them all through college; I lost interest in medieval role-playing when Interactive Literature games came along.)
Interactive Literature was very good for me. Obviously the games were fun, but they also gave me a chance to cut my teeth on the creation of game materials for public consumption.
Immediately inspired by playing in the SIL first game (called Rekon-1) several friends and I (most notably Greykell) wrote a series of annual "Reklone" games, from July 1983 to July 1987. We ran these games at a long defunct local sci-fi convention called Unicon. [This tradition of putting on a major gaming weekend at a summer convention evolved into the first 8 Icehouse tournaments, which were held at another defunct local convention, called Disclave. After the end of Disclave, we evolved our tradition again, by starting the Big Experiment at Origins.]
In 1987, Rick Dutton (one of the original members of the Society for Interactive Literature, who also that year married my Reklone co-author Greykell) ran a game in which you could be anyone you wanted. I choose to be my hero Rod Serling (host and creator of the Twilight Zone), and I had a great time hamming things up with Adolf Hitler, as vividly portrayed by a newcomer on the scene, named Chris Welsh.
Chris and I went on to have many strange and wacky adventures together. We focused on quality character presentation and created a lot of intense and memorable alternate identities. We even did some writing together, creating a simulated stock market floor for a game about corporate raiders called Takeover, plus we created some of the funniest sub-games in the epic SIL version of the Tales of the Arabian Nights (including the Island of the Book People and the Tale of the Ten Sultans Who All Held A Private Party At The Bathhouse At The Same Time).
For a while in the mid-nineties, I joined with Chris and a select group of expert role-players (called Role Playing Machine) to add to the live-game experience by spontaneously creating a series of minor characters throughout the weekend. But then I invented Fluxx, and Kristin and I started Looney Labs, and after that, I just didn't have time for Live Role Playing any more.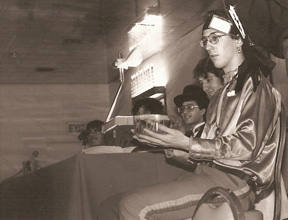 But of all my many in-game accomplishments, I think I'm still proudest of the time I beat the rap for Negligent Genocide. It was in 1984, at the Rekon-2: The First Earth Assembly, a sci-fi game in which my corporation, regrettably named Kickback Inc, had built a shoddy air purification system that had accidentally killed off the entire population of a planet. I was set up to look obviously guilty (and guilty I was), yet I managed to persuade just over half of the players in the 100 person game to vote for my acquittal. In a very dramatic end-game moment, the voting (yes, it was a democratic justice system) literally came down to a tie! (Here you see me at the trial, holding a bowl into which everyone had voted by dropping in a small colored cube, one color meaning innocent, the other guilty.) But I got away with it because the tie-breaking vote was cast by one of my cronies...
In 1988, I wrote a long essay called "On Weekends, I'm Somebody Else," in which I attempted to explain the hobby as it existed at that time. It's now available online, illustrated with a few photos from those days I pulled out and scanned.
Other relevant webpages here: