Other Random Stuff Andy has sold on eBay
[index] [Fluxx stuff] [Chrononauts stuff] [Icehouse stuff] [M:tG cards] [other stuff]
---

Q-Turn Wooden Nickel Game, New
Q-Turn is a game designed by Andrew Looney and published by Looney Labs in 1999. The game features16 wooden nickels marked with cool looking arrows (by Alison) along with 4 small tokens.
While the game does have its fans, Q-Turn was not a commercial success. It is long out of print and is not likely ever to be published again.
This is one of the last few copies of the First Edition.
The complete rules and other info about this game can be found at the Official Looney Labs website.
---
I have a small pile of these to sell.
#1 sold on 7/14/6 for $15.37
#2 sold on 10/10/6 for $19.50
#3 sold on 4/23/8 for $23.73
---

New In Box Ace of Spades-Backed Playing Cards
It's a standard deck of playing cards, with a twist: the backs all look like the Ace of Spades! It adds zany fun to your favorite regular card game!
This is the original version of the Looney Labs products known as 53 Spades (which is currently out of print). Only about 150 of these decks were made, and given to friends and family members as holiday gifts in 1993, by Kristin and Andy Looney, back when they were doing business under the name Geronimo Industries. Notice their names in the central spade design, created by Kristin. (The 53 Spades version, published in 1999, features a stylized pyramid.)
This is a never-opened copy of the original Ace of Spades card deck. It's so unopened, it comes in the original red wrapping paper we wrapped these in that year! (We wrapped 'em all up, but we didn't give 'em all away.)
---
I have a small pile of these to sell.
#1 sold on 12/14/5 for $36.00
#2 sold on 1/24/6 for $36.80
#3 sold on 4/10/6 for $21.30
#4 sold on 6/7/6 for $11.50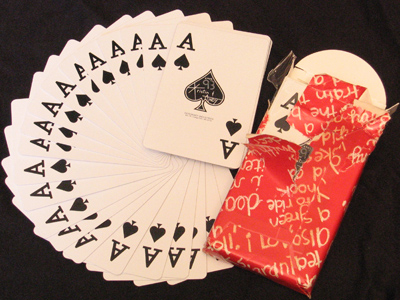 ---

Andrew Looney's Interactive Literature Souvenir Sampler
As I've explained in articles at my website, I was involved with 56 "Interactive Literature" games (now commonly known as Live Action Role Playing games, or LARPs) between 1983 and 1997. Regular readers also know that I'm gradually cleaning out the attic in preparation for moving.
Some of the stuff in the attic has been up there for 15 years. In October 2005, I pulled out a couple of boxes filled with leftover parts and supplies from my old SIL/LARP days. Fake money of all kinds, simulated objects of various sorts, booklets of rules and other interesting information... all sorts of stuff, from all sorts of games.
So what I did was to sort through those boxes and pull together a sampling of a whole bunch of these artifacts, and build them into little packets. I was able to make 10 of these before I started running out of the really cool items. I'll be selling one of these every now and then.
Here's what these packets contain:

The Time Traveler's Handbook: A 24-page booklet of information about The Temporal Council, The Union of Time Travelers, The Crystal Palace, The Architects of Tomorrow, the Time Police, Magic, and more. (Reklone 3)
The Takeover 500: An 8-page booklet featuring a complete listing of 500 fictional companies (drawn from contemporary literature, including such favorites as HAL computers, The Daily Planet, ACME Industries, and Wonka Chocolates), and their stock symbols. (Takeover.)
The Book from the Island of the Book People: Once you start reading this curious little booklet, you can't stop! (Tales of the Arabian Nights)
Seven random ITEM cards: assorted components of the General Operating Device (Reklone 3)
Seven random MEAL cards: representing various food items (Reklone 4)
Fake US money: 19 different banknotes of a vaguely dollar-like design, called either Clams or Greenbacks (various)
Fake Alien money: 29 different pieces of currency from lots of different planets and realities, often strangely shaped and brightly colored (various)
An INACTIVE badge: By order of the Time Police! (Reklone-3)
One Spell Point (Reklone-3)
One Style Point (not sure when I made these)
Two "Research Results" cards (Takeover)
Carte Blanche: A blank check, a blank T-Bill, and a blank contract (Takeover)
One Specimen: A sample of rare spice (in reality, candy sprinkles) in a little plastic vial (Rekon-1)
Gems of Power: Four small, clear-glass crystals (Reklone 3)
Your Name: A small namebadge, with a random name seen somewhere on an interstate highway sign (Takeover)
That's over 75 different items! It's also a fascinating glimpse into the world of SIL gaming from the late 80s and early 90s.
Click on the image to get a high-rez version!
I have 8 of these to sell. (I made 10, but 2 are reserved for the Looney Labs Product Museum.)
#1 sold on 10/11/5 for $20.50
#2 sold on 4/26/6 for $10.49
---

Icebreaker [PC or Mac] videogame, unopened
As the creator of the videogame Icebreaker (originally created for the 3DO game system and later released for the Mac and Windows 95), I received a small pile of complimentary copies of each version when it was released. I gave some away, and stuck the rest in the attic.
This is an original, never-opened copy of the [PC / Macintosh] version of Icebreaker. It's a box full of air with a CD-ROM inside.
Naturally, I can't promise you it will work on your computer, since this software is now 10 years old. But hopefully it will, in which case you'll get to play all of the 150 levels included in the full version.
Before bidding, you should try downloading the free 5-level demo version, which you can find at my website. If that works for you, hopefully this CD will, too.
Icebreaker PC #1 sold on 4/6/5 for $26.00
Icebreaker Mac #1 sold on 8/3/5 for $1.00
---

Magic: The Gathering poster from 1994, unopened
The image shown here depicts the design of the poster I'm selling, but not the condition it's in. The photo shows one of these posters which we've had stuck to the side of our soda machine since 1994, when Wizards of the Coast was giving these away (at some con or another, I forget which). I thought it was a cool poster, so I kept several. Now I'm clearing out the attic. The poster I will send you is still inside the original plastic sleeve it came in. It's never even been opened, and it hasn't been crushed either. I'll send in it a hard mailing tube so it should arrive pristine!
I had 2 of these to sell.
#1 sold on 10/5/5 for $10.50
#2 sold for 1/20/6 for $29.95
---

One of a Kind BLUE Proton PROTOTYPE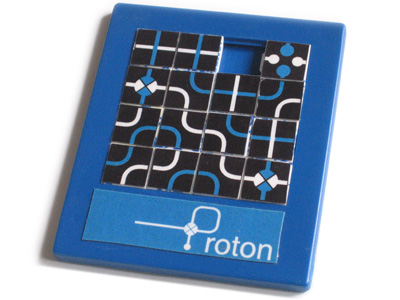 When I invented Proton (on October 22 1998), I made a prototype by putting stickers onto a black sliding puzzle just like the one we then used for making the real game. That prototype has since been lost... we sent it to the company that produced the finished product, as a proof, and they never sent it back.
Since it would be very frustrating not to have a single working prototype of the game in the house during the weeks we were waiting for the real ones to arrive from the factory, I made an extra prototype. This second unit was built using another of the same plastic sliding puzzles which inspired the game, of the same dimensions as the original but in this case blue in color. The differently colored unit demanded I redo the tile designs in blue as well.
Once we saw how cool it looked in blue, we wondered if this other color scheme was even better than the one we'd started with, and I think we may have even considered a last minute change.
Anyway, I think this is the only blue Proton in the world. Who wants it more than Clark?
This item sold on 3/2/5 for $10.00
---

14" Galactus Action Figure, New In Box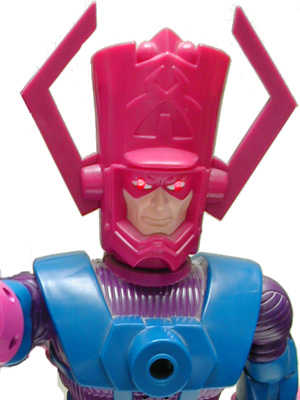 Were you lucky enough to get one of those really cool Galactus clicky-toys that WhizKids was selling last year? If not, then here's the next best thing (and if so, then you need this Galactus to round out your collection)! This 14" plastic Galactus is only slightly smaller than the WhizKids version, but he's much more posable and he has light up eyes! (Visit my website and find the WWN article from 4/15/4 to see a picture of the 2 toys side by side.)
This Galactus, "who feeds on life eneregies of entire planets," is New In Box (NIB) and had a retail price of $24.99 when I bought it, about 10 years ago. I got this one marked down to only $9.99, so that's where I'm starting the bidding. This is the only one I have like this, so don't delay, place a bid now!
This item sold on 11/15/5 for $22.49
---
The Emperor's Purple Car
Read all about my 1987 Dodge Omni in the WWN for 3/23/6.
This page features the full set of photos I posted of the car.
This item sold for $152.50 and went away to live in West Virginia. I wish it well! Here's what I said about the buyer (in Thought Residue #2) after the deal:
I'm pleased to report that my old purple car will be getting a good home! The auction was won by a man folks call Grumpy, and he's just the sort of guy I was hoping would buy it - he likes tinkering with old cars (he's even owned this kind before), his wife loves the color (and the cool gear shift knob), and he's planning to fix it up and keep it running! Since he's from West Virginia he won't be concerned with the Maryland Emissions Testing issue that prompted me to go ahead and sell the car, and he thinks he knows how to fix the cause of the smells that makes me worried it wouldn't pass the Emissions Test. In short, Grumpy is my dream buyer! And I'm getting $150 for it! Yay!
---