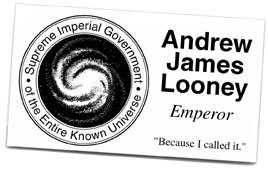 The Fictional Andy Looney: The story of how I came to be known as the Emperor, including photos of some of the other characters I am and have been.
The Emperor Must Die! A short story I wrote in the early nineties, providing my vision of the character of the Emperor of the Universe. (I also based the character of the Emperor of Mars on my imperial persona; see Chapters 51 and 58 of the Empty City.)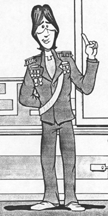 Emperor of Da Universe Comix: In 1980, Steve Hauk created a cartoon character, based on the persona of the Emperor I had created (but with "da" instead of "the"), and his photocopied comic books did a lot to advance my campaign for the Emperorship. Now Steve has his own website, and a complete Emperor of Da Universe adventure is available there for you to read.
Cooking with the Emperor: In college, at the same time as the creation of my cartoon alter-ego, I also did an occasional sci-fi-cooking-themed comedy spot on the Sub-Ether Wave Band radio show, which was another production of Steve Hauk (along with his friend Gary Sommer). But that was long ago. Now I use the title for an e-Book of my favorite recipes.

The Imperial Chocolate Factory: During the holidays, I have for many years been making homemade fudge candy bars, called Units, under the brand name of the Imperial Chocolate Factory. This year, we added a bags of homemade cookies to our line, too. But these goodies are only made in very, very small quantities and are not commercially available.
4 out of 5 Emperors Agree: Look! I'm an action figure! Well, a metal miniature, anyway. In 1985, an extremely small run of these were manufactured at the Grenadier facilities, but I only have a couple left now. Someday, if when we make a Tirade miniature, perhaps we'll also recreate this one. (We need to track down the guy who created them, but I don't remember who it was...)