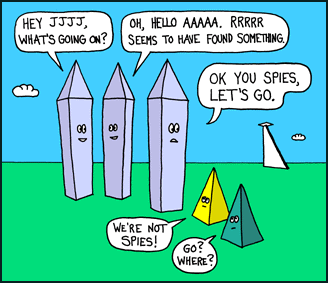 First, the New Stuff:
---
Many people say that Christmas is their favorite day of year, but I prefer these, the days in between Christmas and New Year's. You're on vacation, you've got that feeling of accomplishment (one way or another, all that other stuff you had to get done by yesterday is now finished), you're spending time hanging out with the people you used to play with while growing up, and you've got all these new toys to play with. It's like National Play Week. You have to go back to the grind on Monday, but no work gets done this week; you'll start those resolutions in a few days, but during National Play Week, you can do whatever you want. So it's always a great time of year. I hope you've been enjoying it. We have.
---
So, how was your Christmas? We had a few stressful moments but it was otherwise very pleasant. Did you get any cool gifts? The coolest thing we got by far was a thing called Luminglas, which is an interactive toy that's sorta like a Borg version of a Lava Lamp. It's hard to describe--but very cool. We also got a really gigantic Gund bear and the coolest Pez dispenser yet: a motorized desktop unit featuring Marvin the Martian, who extracts a piece of candy from his nearby rocketship and hands it to you. We got lots of other neat stuff, too (NQ everyone!) and of course we gave away a lot of really cool gifts. The thing people seemed to like the most was the Hoberman sphere (a plastic fidget toy that expands dramatically in size) although the tie-dyes Kristin made were also quite popular. Plus of course we gave away lots of copies of Proton. (Speaking of which, for those of you expecting to receive a copy of the latter by mail, you'll have to keep being patient: we're still behind schedule on that task. (Hey, it's National Play Week! We'll get 'em sent out this weekend for sure.))
---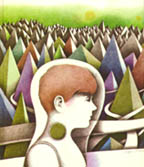 The big gift I gave Kristin was a book-on-tape I made myself, of my favorite book, The City of Gold and Lead, by John Christopher. Understanding why this was a great gift for her is kind of a long story, but since it's National Play Week and I don't have much else to talk about, I'll tell it.
When going to sleep at night, Kristin always insists on listening to a tape. I guess it's a throw-back to childhood bedtime stories - she falls asleep more easily if there's a soft voice yammering in the background. Usually we end up listening to one of the same couple of tapes, over and over again, either the Hitchhiker's Guide to the Galaxy radio plays or a brutally abridged version of Battlefield Earth as read by Roddy McDowall. We've heard these tapes so many times I can recite parts of them from memory, which leaves me wanting to find additional options.
So I decided to make a book on tape myself. I've always enjoyed reading books to people, changing my voice to suit the different characters, just as my mom did when I was a tot. (I can still remember her Mrs. Primm voice from the Lyle the Crocodile series.) In fact, I once spent a month reading the whole unabridged 1000+ pages of Battlefield Earth to Kristin, but since she already has that on tape, I settled on the Tripod books (which I've also read to her before, back when we first started dating).
Actually, this is all old news - I recorded the first book in the series, The White Mountains, for her birthday a couple of years ago. But enough time had gone by that she wouldn't be expecting the next book in the series, so I've been working on it little by little over the last couple of months and got the next 3 tapes done just in time to tuck them into her stocking on Christmas Eve.
The books tells the story of an Earth 100 years hence, which has been conquered by aliens who roam the land in giant 3-legged walking machines. (It's like what might have happened after The War of the Worlds, if the Martians hadn't been killed by our germs.) The Tripods control and enslave the people of earth through metal caps that are permanently fused to your skull when you hit puberty. In the second book, we get to see the aliens domed city, a city composed entirely of pyramid-shaped buildings. The original cover art to this book was, I believe, one of the seeds of my long-standing pyramid obsession.
Someday I'll have to finish the set by reading The Pool of Fire... but not until a couple of years have gone by and she's not expecting it.
---
Another thing I got for Kristin was a book called The World's Shortest Stories, but I think I like it more than she does. I've always been fond of really short stories, sometimes called Micro Fiction, and many of my stories would be classified as such. But the stories in this book have the added constraint of being just 55 words long, which makes writing one rather more like writing a haiku than a short story. I haven't had a chance to try my hand at this yet, but the challenge has me feeling inspired.