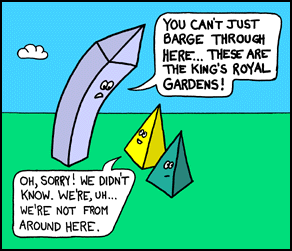 There's very little new content this week - even the new chapter of the Empty City is minimal, it being just a paragraph long (and one of the shortest chapters in the book). However, there is some exciting news: the calendar T-shirt artwork is finished, and the Aquarius TV ad campaign is about to begin!
---
The ad looks great. It starts with a series of soothing images: the earth from orbit, clouds, rolling surf, flames, stars. Then we see various scenes of a pair of girls playing the game, intercut with close up views of the cards. Throughout all of this, there's a very perky woman telling you all about Aquarius. (The voice is familiar... I don't know who it is, but I'm sure I've heard her describe products to me before.) The two girls have that modern hippie look, one with beads and big peace symbol earrings, the other with a headband and a tie-dyed shirt. First they're playing on the carpet in front of the fireplace, then they're playing on a blanket on a grassy knoll somewhere. ("You can take Aquarius with you anywhere you want a fun and exciting game!" the narrator happily explains.) To order, you call the product fulfillment house that handles all of AMG's products, whose number is displayed along the bottom of the screen throughout most of the 60-second spot. More detailed ordering info appears in the product still at the end of the screen, which also includes our URL. "And remember, the player with the longest hair always goes first!"
We signed off on the ad immediately, and the test market phase is set to begin tomorrow, in Kansas City. If it does well enough, the ad will go national in a couple of weeks.