2) Pieces will be molded in acrylic, crystal styrene, or other durable, high quality, translucent plastic, tinted in 4 colors: red, yellow, blue, and green.
3) The order will consist of equal allotments of the 3 piece sizes, in each of the 4 required colors. (A game set contains 60 pieces: 15 of each color, 5 of each size.) Please quote on total production costs for runs of 60,000 pieces (enough for 1000 game sets), 120,000 pieces (for 2000 sets), and 300,000 pieces (for 5000 sets).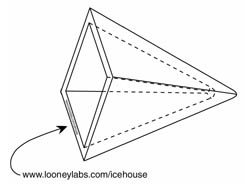 4) The pieces will be hollow, with a wall thickness approaching 1/8", i.e. enough to provide suitable sturdiness.
5) We would like to have our URL etched in very fine print on the base of each piece.

7) To prevent sticking, the "ceilings" of the larger pieces must be flat, so as to stop an inner piece at a stick-proof depth. It seems from our rough calculations, that there will not be enough clearance using the dimensions given above with a 1/8" wall thickness. There are two options for providing adequate spacing: A) reducing the wall thickness, or B) increasing the sizes of the larger pieces as needed. Option A is preferable, for backwards compatibility, but depending on how much the walls must be thinned, we might consider option B.