Books by Stephen W. Meader (1892 - 1977)
I've read over a dozen, among them being some of the first real books I ever.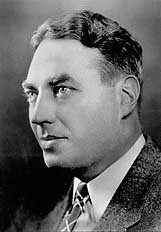 All are fiction and published by Harcourt, Brace, and Company with the exception of Trap Lines North which was published by Dodd, Mead and Company and was essentially non-fiction.
Southern Skies reprints new editions of these books.
| | |
| --- | --- |
| The Black Buccaneer | 1920 (available at Project Gutenberg) |
| Down the Big River | 1924 |
| Longshanks | 1928 |
| Red Horse Hill | 1930 |
| Away to Sea | 1931 |
| King of the Hills | 1933 |
| Lumberjack | 1934 |
| Trap-Lines North: A True Story of the Canadian Woods | 1936 * |
| The Will to Win and Other Stories | 1936 |
| Who Rides in the Dark? | 1937 * |
| T-Model Tommy | 1938 * |
| Bat: The Story of a Bull Terrier | 1939 |
| Boy With a Pack | 1939 * |
| Clear for Action | 1940 |
| Blueberry Mountain | 1941 * |
| Shadow in the Pines | 1942 * |
| The Sea Snake | 1943 * |
| The Long Trains Roll | 1944 * |
| Skippy's Family | 1945 |
| Jonathan Goes West | 1946 * |
| Behind the Ranges | 1947 * |
| River of the Wolves | 1948 |
| Cedar's Boy | 1949 |
| Whaler 'Round the Horn | 1950 |
| Bulldozer | 1951 |
| The Fish Hawk's Nest | 1952 |
| Sparkplug of the Hornets | 1953 |
| The Buckboard Stranger | 1954 * |
| Guns for the Saratoga | 1955 |
| Sabre Pilot | 1956 |
| Everglades Adventure | 1957 |
| The Commodore's Cup | 1958 |
| The Voyage of the Javelin | 1959 |
| Wild Pony Island | 1959 * |
| Buffalo and Beaver | 1960 |
| Snow on Blueberry Mountain | 1961 * |
| Phantom of the Blockade | 1962 |
| The Muddy Road to Glory | 1963 |
| Stranger on Big Hickory | 1964 |
| A Blow for Liberty | 1965 |
| Topsail Island Treasure | 1966 |
| Keep 'em Rolling | 1967 |
| Lonesome End | 1968 * |
| The Cape May Packet | 1969 |
* - these are the books I have (plus Cleared For Action)