Your local web radio stations:





Number 12




Welcome

All the news you need:




---
Another Bad Webcomic
I've decided to relieve some of the pressure in my web-comic obsessed brain and do one for a while myself. I don't really have any interesting stories to tell anymore, aside from those that come up occasionally in Nanofictionary, so I'm making it a journal comic, and posting them at initially in my LJ. Lacking a scanner (not to mention common sense), I'm doing it in MS Paint at first. This is the primary reason why the main characters so far are mostly leeches. Without further ado, here are the first two:
CDPI #1 June 15 2004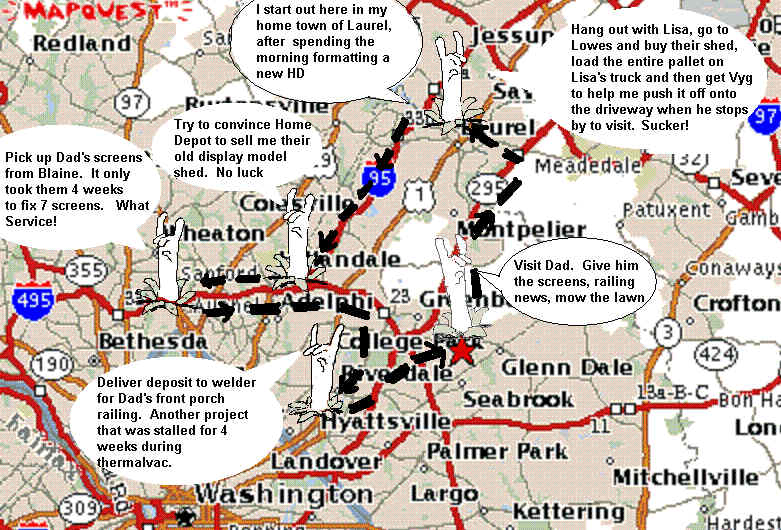 CDPI #2 June 16 2004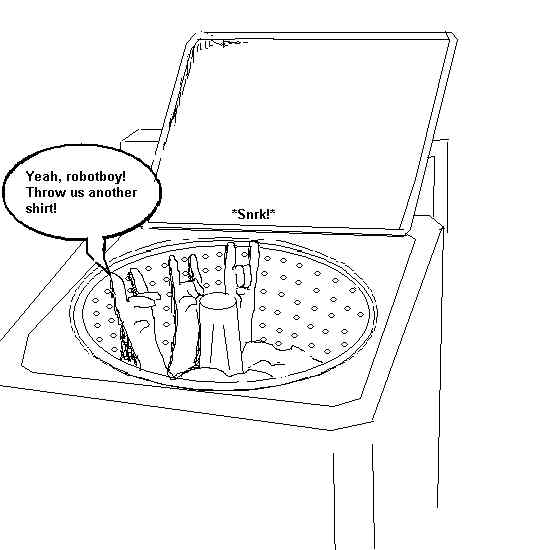 CDPI #3 June 18 2004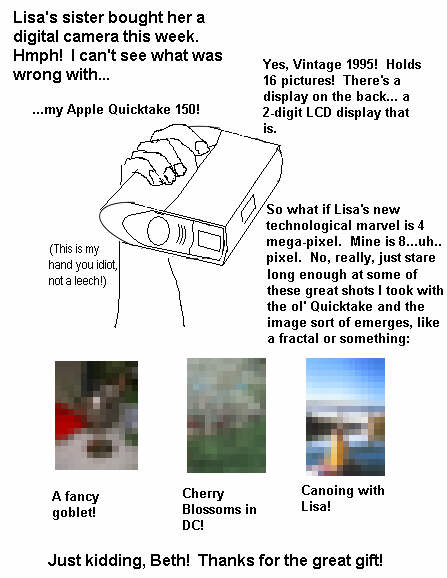 CDPI #4 June 19 2004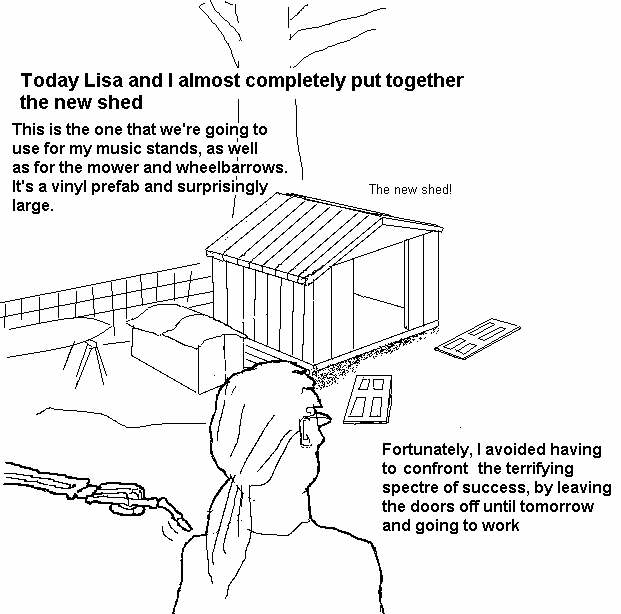 And simply because this news will never cease to be exciting, at least until they sell out and the station becomes an empty husk of it's former glory (Like WRNR):

Maryland Public Rock And Roll Radio!
Those of you who've lived in L.A. or Philadelphia probably have an idea what this means. Radio That Doesn't Suck. The station started literally since December, it's WTMD, at 89.7 FM, out of Towson University. However, I've noticed that the signal seems to to be getting stronger and I can now report that it can be picked up in my car all the way down to Greenbelt. And if you live farther away than that, they've got a Real Audio Stream too.
The best part about WTMD, at least for the moment, is that I can count on listening for hours and hearing nothing but songs I've never heard before, and best of all, will probably never hear again. A lot of the time I'll hear stuff I've never heard by artists that I know; WTMD is one of the few stations in this area (now that WRNR has sold out) who are unfraid to play a different track off of a record. On regular radio all you're going to get per artist is the one or two songs that you've heard thousands of times and which, regardless of qualilty, are like nails on the chalkboard, promting instant station change. WTMD unfortunately does have some songs on rotation for some local and national artists they mysteriously think they have some obligation to promote, and every once in a while they'll play a "classic", probably as some kind of guidepost for regular listeners who might feel lost in their sea of great music. But generally as I climb into my car at the end of the workday, I can expect that when my now knobless radio blares on as I start the engine, it will be something both new and amazing.
Oh yeah, no commercials either.

That's all,

Charles


---
About my pages
My goal in adding this page to the WTS is to entertain my fellow toasters, and maybe even a small segment of the rest of the Web. I'll endeavor to add something new every week, so keep checking in, or look for any announcements about my pages in The Wunderland Weekly News.
My offerings fall into two categories: First, original works; artwork, music, photos, or writing that I'm collecting here for self-publication on a scale unimaginable a few years ago. Hopefully, the world's collective yawn won't totally blow me over, but I think you'll enjoy it if you've gotten this far. Second, Stuff I Found On The Web, brought back and held up to the light for your enjoyment. There's a whole underground world of music publication on the Web through "MIDI", and I'm also wild about Webcomics.
Go directly to the corners of my electronic world by using the navigation bar appearing at the top of this page, or jump down below that to find out what I've added this week. I'll also someday be experimenting with time, allowing you to scroll through previous weeks' versions of my pages where appropriate.
Future Links:
The Lisa Joy Adulation Page
Original Music by Number 12
Show Me Your Bus