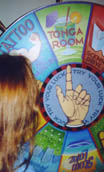 Part Five: The Tonga Room
My favorite kind of dining establishment is the Polynesian Tiki Lounge. These used to thrive all over the country, but now they are a vanishing breed, nearing extinction. This past year, we lost my favorite one, the world-famous Kahiki in Columbus, Ohio, which was demolished to make room for a discount superstore. So as we planned our San Francisco tour, I was a almost afraid to ask about the Tonga Room, previously my second favorite Tiki lounge, for fear it too might have vanished since my last visit. But no, it's still there.
The Tonga Room is located in the basement of the Fairmont hotel, a huge building at the top of Nob Hill that was the only surviving structure around when the 1904 earthquake leveled all the weak buildings nearby. For a long time, the Tonga Room was just a swimming pool, and for awhile there was apparently a restaurant around the pool themed like an ocean liner, with the pool intended to appear as the pool onboard the ship). It was turned into the Tonga Room after WWII, when our boys came home with exotic tales of the South Pacific and everyone else yearned to share the adventure. (You learn all this history from a series of displays in the hall outside the restaurant. There's more history inside, too; some of the decor was made using parts of an old ship!)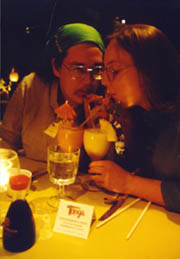 Inside, it's your basic simulated tropical paradise, but with a couple of neat twists. Remember I mentioned a pool? It's still there, but it's been transformed into a lagoon. Live music is playing as we enter (a woman in a tropical-print dress croons out covers of various semi-current hits) and the band is situated on a little boat out in the center of the lagoon!
Also, there are rainstorms. Since there's a pool below to drain into, the designers decided to simulate regular tropical thundershowers by creating actual rain inside the building. It's more like a thin curtain of waterfall that rings the pool, and depending on where you're sitting, it can look rather cheesy, but sitting under the big thatched roof as we were, it was cool.
It was a spectacular meal. The food was great (pricey too but well worth it for the overall experience) and even the fortune cookies seemed to have been written just for us. I highly recommend this place if ever you are in the area.