Travelogue: The 2001 Looney Labs San Francisco Tour
by Andrew Looney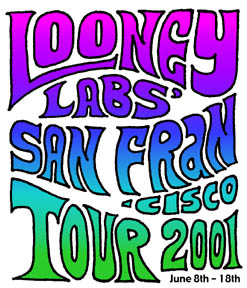 Overview
Kristin, Alison, and I have just returned from a heck of a great trip to San Francisco. Part business and part pleasure, we spent over a week driving around the bay area, playing our games with everyone we met. We packed as much fun into every day of our trip as we could, and consequently we were always dashing off just when we were starting to settle in somewhere. Each night was spent somewhere new, usually with family, fans, or friends (with the occasional night off to ourselves in a hotel). Sometimes we did touristy things (like the Exploratorium, the Cable Cars, and Golden Gate Park), but more often than not we were just hanging out with a constantly changing group of people, playing our games. Sometimes we were there to teach the games, like when we made store appearances and met with sales teams, but other times we were just playing for the fun of it. And we even managed to work in a few playtest sessions of my new card game, Nanofictionary, which is testing so well I plan to reveal a few details about it as part of this article.
Since we did a lot of different types of things on this tour, I've decided to organize this report by event category, rather than in chronological order. Here's an overview of what each section will contain:
1: Parties at Friends' Houses: We have many friends in the Bay Area and we tried to see as many different people as we could while we were out there. On a couple of occasions we were like the guests of honor at the regular sessions of gaming groups where our games are often played, notably including parties at the homes of two of our most enthusiastic Mad Lab Rabbits, Eric Zuckerman and Ammy Hill.
2: Gaming Events at Game Stores: Our visit was also the focus of several events at places in the area that sell our games. We met with the sales force of Alliance, the largest game distributor in the area, and ran a gaming event at a new game store in Oakland called Endgame (where Sugarbaker's giant foam Icehouse set also made an appearance). We also dropped in on several other area game stores that sell our stuff.
3: Game Demos at Medical Marijuana Clubs: Game stores aren't the only places that sell Looney Labs games, and in California, there's a whole bunch of these "buyer's clubs" that sell cannabis to medical users in a setting not unlike an Amsterdam coffeeshop. They also sell all manner of paraphernalia for use in partaking of the weed, and yes, even some items for their customers to enjoy afterwards, including Looney Labs card games. As at Endgame, we were invited in for an afternoon at two of these clubs, to teach our games to their staff and clientele.
4: The 24th Annual Haight-Ashbury Street Fair: We being hippies and this being San Francisco, we naturally made several excursions into the Haight-Ashbury district, and even managed to attend the annual street festival without having known about it at all in advance.
5: The Tonga Room: One of my favorite Polynesian restaurants is located in the Fairmont Hotel at the top of Nob Hill. Naturally, I had to take the girls there for dinner.
6: Other Random Acts of Tourism: These include the Exploratorium, Hippie Hill and the Portals of the Past (in Golden Gate Park), the Sutro Bath Ruins, and the Wave Organ. I got some cool pictures!
7: Father's Day is Family Time: We met up with my brother Rash on a couple of occasions during the visit, and on our final day, which was Father's Day, we went out with him to see our Uncle Bill and his family. We played pool with his 6-year old grandson, and Aunt Marta made us a spontaneous international feast.
8: My Overall Favorite Moment: When we got back, Mar (or was it Lauren?) asked what my single favorite moment was, and after some consideration, I came up with an answer.
---