We spent the Veteran's day weekend at a cabin in the mountains with 14 members of the Looney family, and we had a simply delightful time. My dad rented out an entire cabin for us at Skyland in Shenandoah national park, where we had this spectacular view of Luray in the valley bellow:

It was a great setup for us... the cabin had 5 hotel-sized bedrooms, plus a central living room equipped with the view shown here, a fireplace (with plenty of neatly-stacked firewood on hand), a kitchenette, and various pieces of furniture. The bedrooms were variously attached, providing ample space for everyone and a central gathering place for the group. And here they are: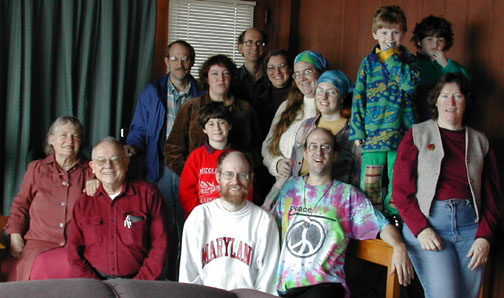 That's mom and dad on the left, then brother Howard, his wife Leslie, and their son Eric, followed by brother Jeff and me along the front, with Jeff's wife Judy on the right and in front of their kids James and Sharon. In the center behind me are my wife Kristin and our housemate Alison, and behind them are my brother Rash and his girlfriend Marlene. Absent but fondly thought of throughout were Howard's daughter Sarah and my sister Kathi, who were unable to attend. Hopefully everyone can join us next year, as I'm hoping this will become a tradition for us!
Of course, in such a beautiful setting, we went on a number of nature hikes (not counting the numerous trips back and forth along the ridge to the lodge where they make a blackberry cobbler that many in my family are crazy about). Here we are hiking along the Stoney Man nature trail...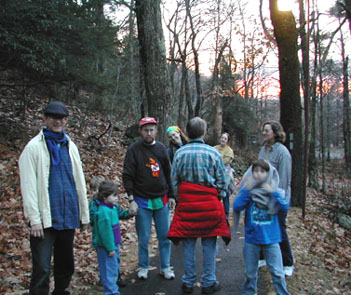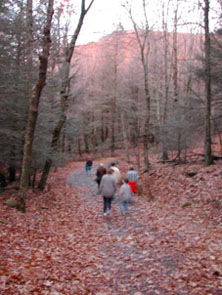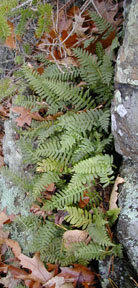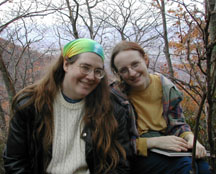 Since you had to drive to get there, a few of us opted out of the trip to Big Meadows and enjoyed simply hanging out at the cabin. Kristin and Alison spent a bunch of time climbing around on the rocks nearby, identifying ferns (this one here is a common polypody fern) and drawing pictures of the boulders. I myself spent some time just sitting by the fire, tinkering up a prototype for a tasty new card game I'm starting to design. But I can't say any more about that just now.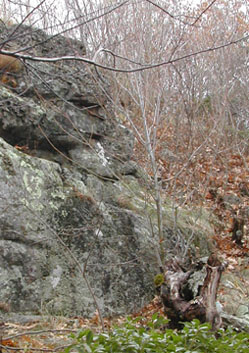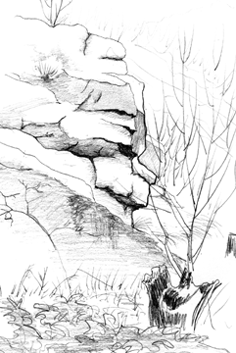 Speaking of gaming, I was delighted to find that the twins are taking an interest in gaming. Since they aren't yet 6, one must simplify the rules and be very patient to play any of our games with them, but Aquarius works pretty well, and amazingly enough, they really got into Volcano.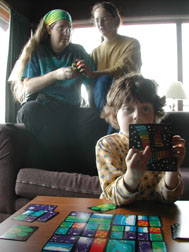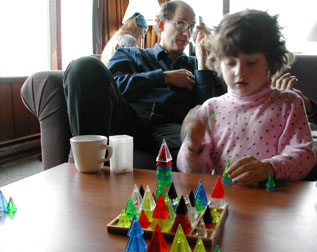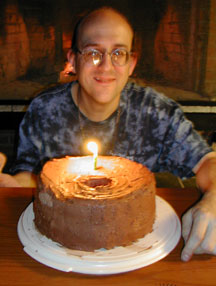 Since I just had a birthday (I'm now 39!) I received a bunch of nifty gifts and we all enjoyed my favorite food, a chocolate angel food cake, which Alison had made and secretly brought along. Unfortunately she forgot to bring birthday-cake candles, but we were saved because my mom (who can still beat an eagle scout at preparedness) happened to have one in her purse. With only one candle on my cake, the scene reminded everyone of the famous photo of me on my first birthday, so of course it became a photo op.

Anyway, it was a great trip. Thanks Dad! Let's do it again next year!