Wacky Cake: It's Vegan!
---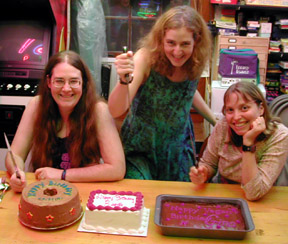 Long ago, it became a tradition for me to make a Chocolate Angel Food Cake when celebrating the birthday of someone close to me. Just as my mom made that cake for me when I was growing up, I now make one for Mom -- and selected others -- for their birthdays. And so it was last week, when Kristin's Birthday rolled around.

However, CAFC is not the only traditional favorite birthday cake in our family. Equally revered in the tastebuds of some is a heavier chocolate cake known as Wacky Cake. Some even prefer it... in particular, this is the cake Dad has always chosen to have on his birthday.

Delicious though Wacky Cake is, I had never bothered to cook one myself until last week. I've had the recipe in my files ever since I got my own place and therefore needed copies of all of Mom's vital recipes; but whereas you rarely find a CAFC in the world-at-large, Wacky Cake is a lot like most ordinary chocolate cakes... the only reason it's called "wacky" has to do with the odd way in which it is prepared: all the mixing is done right in the cake pan, with a step that includes making little holes in the dry ingredients with your finger into which the wet ingredients are poured. Wacky, eh?

Frankly, the name really doesn't fit at all. I think we liked calling it Wacky Cake because, being Looneys, we enjoy things that are zany; but the "wacky" part (such as it is) isn't even apparent to anyone other than the baker. (Also, Hippies who enjoy "Special" Brownies might get the wrong idea about Wacky Cake...) The point really is that this cake is very easy, and since you mix, bake, and serve the cake right out of the same pan, it creates a minimum number of dirty dishes. It should probably be called Easy One-Pan Chocolate Cake instead.

But here's the really excellent part: I've only just this week realized that this family favorite I've been enjoying all my life is also good for Vegans! I had always assumed that, like most cakes, this one had an egg or two in it, which would make it inappropriate for those who shun all forms of animal-derived foods. Since one of my closest friends is a dedicated Vegan who also loves chocolate and has a birthday in the same week as Kristin, I wanted to make another cake, to go with the traditional CAFC, which Gina could enjoy. My first thought was simply to use the Vegan chocolate cake recipe she has on her website... but when I looked at it, and noticed it contained vinegar, I suddenly remembered that Wacky Cake does too, and when I went and actually looked at the original recipe, I found it also doesn't use eggs at all! Yay!

There's still one problem with the traditional Wacky Cake recipe: while the cake itself is indeed Vegan, the homemade butter frosting Mom tops it with is not. Fortunately, as Gina notes on her page, commercial vegan frostings do exist, so I just grabbed a container of Pillsbury Chocolate Fudge Frosting to use on this, which of course, is easier anyway.

The only problem with this whole plan was Renee, another close friend whose birthday coincides with Kristin's. (In fact, the timing of these 3 birthdays has led to a whole different tradition for these 3 ladies, namely an annual roller-coastering party. But that's another story.) Anyway, Renee isn't a Vegan, but she also doesn't eat chocolate. So, to round out the dessert table, I arranged for a commercial all-vanilla Ice Cream Cake to be delivered, which added a nice bit of variety for those (like me!) who wanted a slice of all 3 cakes.

The only question now is, what will I do if I meet a chocolate-hating Vegan? I guess I'll need a fourth cake. Anyway, here's the "wacky" recipe: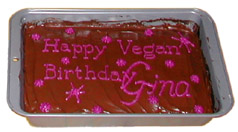 Stuff You Need:
1 1/2 cups flour
1 cup sugar
1 teaspoon baking soda
1/2 teaspoon salt
3 tablespoons cocoa
1/3 cup cooking oil
1 tablespoon vinegar
1 teaspoon vanilla
1 cup cold water
Mix dry ingredients in 9 x 9-inch pan. Make 3 holes; pour oil, vinegar and vanilla in separate holes. Pour water over all. Mix well with fork or hand mixer. Do not beat. Bake at 350 degrees for 30 minutes. Leave in pan and frost (with chocolate fudge icing) while still warm.