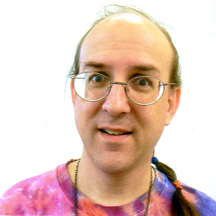 Are you interested in participating in Andy vs. Everybody? Would you like to get in on a playtest session of Andy's newest secret game prototype? Do you just want Andy to autograph your Fluxx deck, or are you bold enough to challenge him to a game of Homeworlds? Maybe you're just trying to tempt him into a poker game.
Whatever the reason, this page is for those interested in meeting me, Andy Looney, in person.
The best way to meet me is to find me at one of the many conventions I attend during the course of the year. Listed below are the events I'm planning to be at in the near future. (If the convention you want me to attend isn't listed here, please consider asking the con committee to invite us to be Guests of Honor.)
Andy's Calendar of Upcoming Events:
Finding Andy Elsewhere
While I love meeting fans, I'm also something of a hermit, so I discourage requests to visit me at home.
I've been known to meet fans at a local coffeeshop for a game, but our neighborhood currently has no decent coffeeshops. There used to be an excellent place called Planet X, but they're long gone... more recently we had a wonderful spot called the College Perk, but they closed last year. :-( If our town ever gets a worthy hangout space again, I'll make a note here about when people can find me there.
I dream of taking a major trip around the country, visiting game stores and sitting in on the sessions of gaming groups in other cities, but I'm currently way too busy to even plan such a trip, let alone take it. But this page is where I'll announce such things, when and if I'm ever ready to.