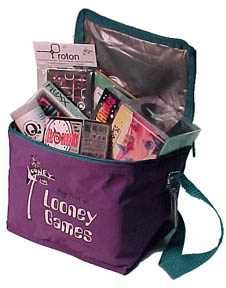 Ode to my Purple Bag
by Andrew Looney
11/30/00
I Love My Purple Bag.
I have this small purple bag, which I keep my core games in. And it's great. I love this bag.
It's the perfect size, big enough to hold anything from a lunch or a six pack to a stack of books or videotapes to, yes, a complete set of Looney Labs games, with room to spare. I take mine with me everywhere, so that I always have games available. The bag has a shoulder strap for easier carrying (though in truth I wish it were a tad longer) and is itself small enough to be packed inside larger luggage for modular packing.
These bags are generally available under the brand name The Original Koozie, and when we got one as a sample many months ago and I started carrying my games around in it. I like it so much that we decided to get a few imprinted with our logo and the words "Big Bag of Looney Games", so that you too can know the joy of carrying your collection of games around in a handy and colorful bag.
I Hate Buying Air.
Here at Looney Labs, we like to do things unconventionally, and one of the ways we break the rules is our approach to packaging. None of our products contain cardboard inserts that serve only to increase the size of the package. I don't know about you, but I hate spending a lot of money on a big box only to find that most of the space inside is just air, particularly since I then have to store that air somewhere. Our game collection takes up a lot of space in our house, and a lot of it is just wasted. As our society gets more and more cluttered and even our auxiliary storage spaces fill up, we need to start moving away from space-wasting oversized packaging. Although our retailers would prefer we play by the rules here, we are committed to keeping our packaging lean and efficient.
Games Should Be Portable.
Before I started invented games, I was writing stories about playing games in unusual places like diners and cafes and subway stations. One of my heroes is Phileas Fogg, who always had a deck of cards ready for a quick game of Whist even while traveling around the world, and I too am one of those rabid game players who seeks to fill every dull moment with a game of something.
For years, all I felt I needed was an Icehouse set. Designed from the outset as a go-anywhere game, a bag of Icehouse pyramids is now more than ever ample entertainment on its own. But now that we also have Fluxx, Aquarius, Chrononauts, Q-Turn, and so on, not to mention other stuff in the works, I needed a bigger game bag. This bag holds everything we've got so far, and leaves room for a tarot deck, chessboard bandanna, deck of playing cards, my pencil bag, and even a few other compact games, like a Falling deck and a set of Cosmic Wimpout dice. And I can pack all this fun into one of these purple bags and just keep it handy, to be grabbed on the way out and deployed whenever there's an opportunity for play.
I'll Design No Game Too Big For This Bag.
And now that I have this glorious bag, and have started really living out of it, I'm stronger than ever in my resolve to keep our packaging small. For me, this bag sets the standard: if I can't put a copy of the finished game product in this bag, it's too big.
It's Waterproof.
The bag is exactly the right size to hold a six-pack of 12 oz cans because that's what it was actually designed to do. Like many great inventions, the purple game bag was actually designed for something else. But it's actually really cool that the bag has a thick insulated lining intended to keep any loose liquids inside the bag: it also protects the contents from moisture on the outside of the bag, while providing them with a bit of padding. Thus, if you use it to carry your games around, you won't have to worry about them being ruined when you're caught out on the street during a thunderstorm. (Or if you get shipwrecked on a desert island.)

It Even Says Looney Labs on the Side.
At least that's true if you get one of these little bags from us. They're widely available now, and indeed, the ones we sell have changed over the years as different suppliers have been involved. Also, we may not even have them in stock at the moment. But check the webstore anyway!