---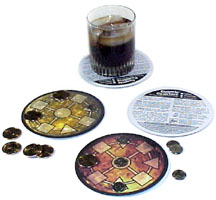 Cosmic Coasters
The Teleportation Combat Game
played with coins on custom bar coasters
Each coaster features a gameboard on one side and complete rules on the back
Set of 4 feature NASA images of the major moons of Jupiter (Ganymeade, Io, Callisto, and Europa)
Each moon also carries a unique special power (Stinging Defense, Teleport Inhibitor, Warning System, and Rapid Transit)
Additional Equipment: each player needs a fleet of seven matching tokens (for example, pennies or dimes)
Recommended for 2 players, with variations included for 3 or more
Playing time: 10-20 minutes
Suggested Retail Price: $5
---

The problem with teleportation is that it's a one-way trip.

You've transported a ship to an enemy planet -- now what? Their teleport pad is under tight control. Looks like you'll have to overwhelm them with sheer numbers and do battle to the death to even send a single ship back home. You'll need cunning, and a good dose of luck to get through this alive -- and don't forget that special power you have up your sleeve...

Sound complicated? Not to worry. You can always just use their entire planet as a place to put your drink.
---
How To Use These Coasters:
Yes, these are real bar coasters, intended for repeated use in beverage-intensive situations. You can get 'em soaking wet and they'll be fine when they dry out. Please don't hesitate to use them as coasters!
When playing with two, each player receives two coasters: the first is used as a gameboard, loaded up with a fleet of seven coins (or other matching tokens), and the second is kept next to it, face down. It will serve as both a rules reference and an indication of the player's special power. (It can also be used as a place for your beverage.)
When playing with three or more, each player should invade (and attempt to return from) only the planet on the left (thus needing to defend against such an invasion only from the player on the right).
To play RPS, each player simultaneously reveals their choice of Rock, Paper, or Scissors. Rock beats Scissors, Paper beats Rock, Scissors beats Paper.