Zarcana Stickers
Turn any Tarot deck into a Zarcana deck!
Some people like the newer game Gnostica better than the one which inspired it... but other players prefer the original game, known as Zarcana. If you are a Zarcana player, these stickers are for you!
---
Downloadable Zarcana Stickers: Turn any Tarot deck into an easy-to-learn Zarcana deck just by downloaded these PDF files and printed them out onto 6 sheets of Avery 5960 address label sheet:
Official Rules to Zarcana, by John Cooper
Why I Like Zarcana Better, by Andrew Looney
The Aquarian Tarot: Created by David Palladini in 1970, this is our first choice for a Tarot deck to use for Zarcana. It's beautiful and stylish and is very well suited for upgrading with Zarcana stickers. Read more about it in Andy's review.
Icehouse: Of course, you'll also want a set of pyramids...
---
Zarcana stickers are meant for use on a tarot deck, as shown here...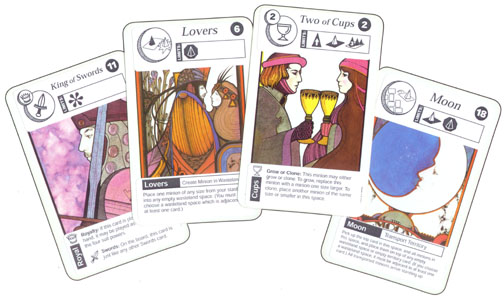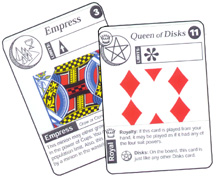 However, you can also use them (with a little bit of trimming) on a set of 78 poker-sized playing cards, or even a stack of old Magic:The Gathering trading cards.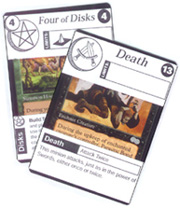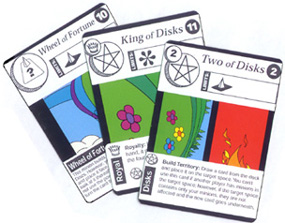 You could even use Zarcana stickers on Nanofictionary or Aquarius cards if you wanted to!