At the gym this morning I couldn't believe my eyes: on the television, between the Bugs Bunny cartoons, sudden scenes from "Kiki's Delivery Service"!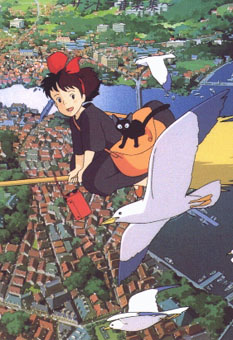 She's an attractive young witch (the good kind) who rides her broom around a wonderfully timeless quasi-European city: there's gas-lamps, television and airships. I've never seen it, since I've never had access to a translated tape, and had no knowledge of a dubbed version's existence until now - the implication in the commercial was it's being released via Disney. Although he's done many others, these are the five feature-length "Japanimation" films by Hayao Miyazaki:
Laputa, Castle in the Sky
Monster Princess
Kiki's Delivery Service
Nausicaä of the Valley of the Wind (the dubbed version was called "Warriors of the Wind") and of course
Totoro of the Neighborhood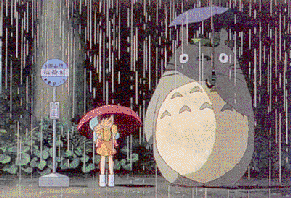 Just after my first trip to Japan my brother N scored a home run by sending me a sub-titled "Totoro" tape, which I practically wore out. It's the story of two girls in rural Japan circa 1955, and the wood-spirits they meet. I've seen the dubbed (and tragically edited) version of "Nausicaä" as well as "Laputa", but I've only seen the stills in the picture book for "Kiki". A few years ago the dubbed "My Neighbor Totoro" became available.

Saw "Next Stop Wonderland" today and liked it very much. Reminds me of the quote by Andy Warhol - I may not have this exactly right, but it's something like "Real love's never like it is in the movies. So I go to the movies." Great Bossa Nova soundtrack, too. There were good previews:
"Pecker" - new from John Waters (with Patty Hearst!) - looks to be very amusing.
"A Merry War" - humour from England featuring Withnail.
"A Soldier's Daughter Never Cries" - possible hinckiness with Kris Kristofferson from Merchant-Ivory. Might be good. The preview made it look interesting, although that impression faded in the final few moments.
"Touch of Evil" - the new "Director's Cut" - looked great on the big screen. This is such a weird film (Charleton Heston as a Latino!?) - took me awhile to get through David's videotape, which he loaned me back when we lived in Santa Monica (someone had given him the commercial release). We naturally like it because it's filmed in the old, original part of Venice (California) - the classy restaurant he worked at ("72 Market Street") is right around the corner from those unmistakable archy arcades.

In the evening I had Pud Thai at the "New Tung Kee" noodle restaurant, then hung around at Tower a bit. The odd "Bay City" coffee shop next door has closed down - this place was ever searching for an identity. It was popular, always had a bunch of regulars hanging around out front, but they'd installed monitors inside where they'd show the Game (a sports coffee shop??) and in its last days they even had live rock'n'roll - now it's a vacant storefront, the small notice taped to the door explaining the closure due to a lease disagreement with the owners. Inside Tower Records, on a large digital monitor, I watched a lot of "Tron" - a great film that was way ahead of its time.