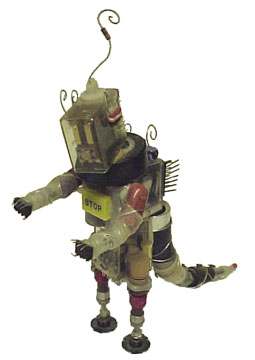 T-Rex
And this is Tron. He normally lives by the kitchen telephone, and is often called upon to hold pens and pencils so I can take messages. I think he eats them, though, when no one's looking.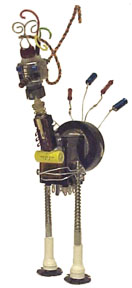 Dizzy Bird
Ah, good old T-Rex. One of my favorites, although I think the other zords are a little scared of him. He's made of lovely big blocky relays, with a pinch roller for a neck and assorted capacitors making up arms and tail. I put him together with bus wire, solder and shrink tubing, with liberal lashings of hot glue.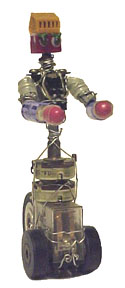 Tron
Finally, we have Dizzy Bird, so named because he has a hard time standing up-- though that may be more my fault than his. Dizzy's head started life as a record head on an Otari reel-to-reel deck, but I think it looks much better as a bird head with multicolored wire plumes.
I'm still making zords and selling them to good homes. All the ones on this page can be reproduced pretty exactly (except for Punk Dog), and I'm also happy to build custom zords. Drop me a line!