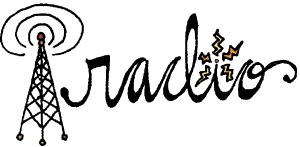 College radio warped my brain! I went to Amherst College, and over the course of many an overnight shift at dear old WAMH (89.3 FM in Amherst... where there is no alternative to alternative), staring bleary-eyed at dancing VU meters, I got bit by the radio bug. And how. Now, the only way to make a living in radio these days and retain some shred of self-respect is to work for National Public Radio. So I do. And here's my resume:
---
Petra Mayer
speedlime@hotmail.com
OBJECTIVE
Dedicated producer, writer, and editor seeks full-time radio production position.
ABILITIES
Producer At National Public Radio headquarters and NPR affiliate WBUR in Boston, generated story ideas and produced pieces for air using both tape and digital editing equipment.
News/Feature Writer Wrote news and feature copy on tight deadlines for Radio Free Europe/Radio Liberty (RFE/RL) and NPR.
Audio Editor Monitored, edited, and distributed audio clips, handled audio feeds from RFE/RL correspondents in the field, and worked with broadcasters to increase use of original audio content. Trained correspondents in field recording, filing sound via FTP, and digital editing.
Archivist Designed and maintained a searchable archive database for RFE/RL audio clips dating back to the early 1950's. Updated archive every week with new material from current stories.
Web Author Designed and built "Ten Years After" web site for RFE/RL, including feature material and RFE/RL archival sound material on the revolutions of 1989. See website at http://www.rferl.org/nca/special/10years/index.html
EMPLOYMENT
2000- Production assistant on Weekend All Things Considered, Weekend Edition Saturday, Morning Edition, and Performance Today at National Public Radio in Washington , D.C.
1999-2000 News and feature writer, archivist, audio editor and web page designer for Radio Free Europe/Radio Liberty, Prague.
1997 Morning Edition production assistant and newswriter, WBUR 90.9 FM, Boston, MA.
1994-96 Engineering Services Assistant, National Public Radio, Washington, DC.
1993-96 DJ, Chief Engineer, Chief Announcer, and Executive Board member, WAMH 89.3 FM, Amherst, MA.
SKILLS
Dalet, ProTools, Cool Edit Pro, BE AudioVault, traditional tape editing, AP ENPS, LeechFTP, Microsoft Office, Lotus Notes, FileMaker Pro, Photoshop, BBEdit, Adobe PageMill.
EDUCATION
Master of Science, Columbia University Graduate School of Journalism, 1998. Reported, wrote, and produced Master's Project radio documentary on the low-power FM radio movement in the United States.
Bachelor of Arts Magna cum Laude in History, Amherst College 1996. Wrote Senior Thesis comparing World War Two radio propaganda operations in Germany and America.
References on request