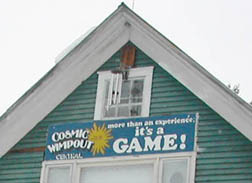 Travelogue: Pilgrimage to the Cosmic Clubhouse
by Andrew Looney
After meeting Maverick at Pop-Tart Cafe #7, we drove up into the vaguely-nearby mountains to visit Cosmic Wimpout Central itself... and we had a grand time. As we'd always imagined and hoped, the Cosmic crew are really cool people, and we bonded immediately.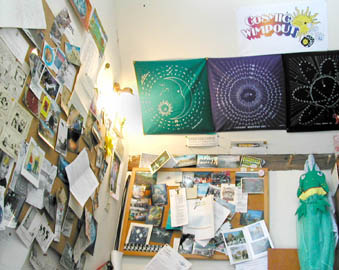 As you would probably expect, there are lots of nifty little things to notice and look at in the Cosmic Clubhouse. Among other things, I discovered a printout of Kristin's Contagious Dreams review of Cosmic Wimpout thumbtacked to one of their bulletin boards.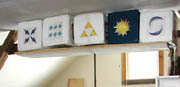 Look, up in the rafters:
It's giant Cosmic Wimpout dice!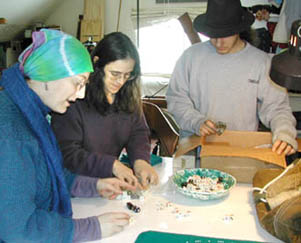 ...and after they brought out this huge bowlful of rejects and leftovers from previous editions, Alison began building a very special set for herself, with each of the 5 dice being rare and unique.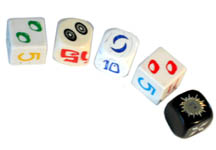 (Naturally, this was such a cool idea that I picked out a special set of 5 for myself...)
And here we see the staff of the Clubhouse. Above, that's Brett (former clubhouse attendant) on the right, and that's Cargo in the purple shirt. She and her husband Argo have been running this little company together, in their spare time, for almost 30 years now. The business continues to grow slowly but steadily, and as they gradually look forward to retiring from their day jobs and having more time to devote to their game business, they still have big dreams for Cosmic Wimpout.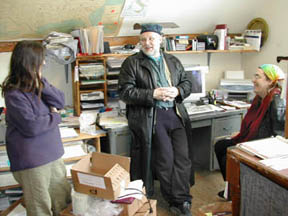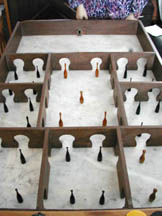 There was other fun stuff to see, do, and explore in and around the Cosmic Clubhouse (like this vintage skittles game), but the real fun for us was simply meeting and hanging out with Argo & Cargo and their kids, sharing our not-unsimilar stories with each other. Just as they once inspired me and Kristin, we are now an inspriation to them, and since you might call them the original hippie game company (they found many of their followers among fans of the Grateful Dead) they are kindrid spirits as well as entrepreneurial peers. We look forward to future associations...