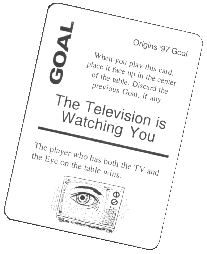 The promotional Fluxx card given out at Origins '97 might be a bit cryptic to those who weren't at Origins '97. However, the explanation is quite simple.
Since The Television and The Eye are both Fluxx Keepers, we had the idea of setting up some TV screens in our booth at the show that had eyeballs peering out from them. This bringing together of 2 things not usually connected allowed us to then create an unusual special goal.
The eyes appeared on 3 different screens, and all operated independentally of one another, looking this way and that, each blinking every few seconds. I did these blinking eyes with the 3DO development environment, using close up photos of Kristin's eye.
We still have a few of these left!