[First published in the Gazette, Nov. 17, 2005.]
Time to deal
In gaming world, College Park duo's inventions attract players and generate excitement
by Meghan Mullan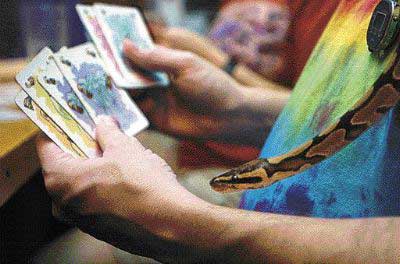 Benji the ball python checks out a hand of cards during a game of ''Shau" on a Thursday night, which is when the ''Wunderland Toast Scoiety" has met for the past 16 years at the College Park home of Andy and Kristin Looney. " (Barbara L. Salisbury⁄The Gazette)
On a Thursday evening for the past 16 years, it's all fun at the College Park home of Kristin and Andy Looney, where friends hang out, drink sodas and play games. Not the sort of card games you might be thinking about, but games created by the duo.
Wunderland Toast Society is what the game-players call themselves, and Wunderland Earth is the re-christened name of the Looneys' home.
In fact, many of the players believe that someday, the real story will begin, ''It all started in a 1937 Victorian house with purple carpeting on the walls in College Park."
What started was Looney Labs, home of the game company run by the Looneys and their partner, Alison Frane. The Looneys said they are moving headquarters to Canada next year as part of expansion plans.
The Looneys, who met while working at NASA in the 1980s, gave up their comfortable jobs at the leading space agency in 1996 to work full time at home. Frane, who lives with them and is known in the gaming world as Alison Looney, has an art degree from Amherst College. She is the gifted sketching artist with a tremendous flair for writing clues for games.
If you visit their home, tucked away on a tiny side street in College Park, you will find it decked out from floor to ceiling in whimsical game paraphernalia, including multiple sets of small, colorful pyramids that are used to play ''Icehouse," the first game the Looneys marketed. Icehouse developed from a fictional game in a novel that Andy Looney wrote called ''The Empty City." Friends who read the book said the story was ''OK, but what they'd really like is to play that game with the pyramids," Andy Looney said.

Players try their luck at a game of ''Schaufenster" during game night. (Barbara L. Salisbury⁄The Gazette)
Andy's childhood friend, John Cooper, figured out a game that people would enjoy after he read Looney's book. Icehouse has developed into a game played with stackable, iridescent, plastic pyramids used like a deck of playing cards to play more than 100 games.
Aside from the rows and rows of pyramids, Looney Labs boasts a free-standing pinball machine and soda machine, funky artwork, carpeting on the walls and bowls of Hershey's kisses on gaming tables.
The home is crammed with stuff, but it's all neatly organized and a virtual haven for the game-inclined. And that's just fine with the Looneys, who depend on their large network of game-playing friends for inspiration, experimentation and hype.
Fluxx is by far the Looneys' biggest hit — a family card game somewhat like Uno. But the essential difference between the two is that with Fluxx, the rules are constantly changing, that is, always ''in flux." Fluxx has sold 250,000 copies to date.
On a particular game night, Fluxx is on the table and in play. Luisa Robles, the Looneys' office manager, is playing with Kristin, Alison, Andy and friend Greg Washington. Andy has the Looneys' pet snake, Benji, wrapped like a scarf around his neck.
''At any moment anybody can win," Alison says. ''It can drive hardcore gamers crazy. But there is enough luck involved so that if you lose, you can say it was bad luck, but if you win, you can say it was skill. "
The game is played with stiff, shiny cards flipped in front of each player. Players deal out goal cards. The goal of a card played by Andy is ''Hippyism," any players with the cards ''peace" and ''love" will win. ''But then when I think I'm going to win with my peace card, someone deals out a new goal and everything changes," Allison says, referring to the Fluxx's rule that the new goal dealt must now be the focus of all the players.
''People just play this game for the fun it," Luisa explains. ''There's a cool, friendly vibe to it."
By all means, Fluxx has been a widely popular success in the game world. It's the company's most popular game and a Mensa International award winner. Mensa is a world intellectual society.
The success of Fluxx has bolstered the Looneys, if not financially, at least psychologically. It was in 1997 at an Origins game convention in Columbus, Ohio, while demonstrating Fluxx to gamers, that the Looneys first suspected their fledgling company might become a success.
Alison and Kristin were behind the Looney Lab stand playing Fluxx with anyone who wanted to, when a happy buzz began at their station. Soon, more players and others attending the convention stopped by. Everyone was into the game, and the crowd continued to grow.
''That's when we knew we had a hit on our hands," Kristin said.
Andy, who grew up in University Hills with his father — a mathematician — developed the game from several ideas he'd been working on.
Fluxx has buoyed the Looneys and propelled them into relative fame in gaming circles. Looney Labs has a strong Internet following at www.looneylabs.com. The Looneys call their biggest fans the ''Mad Lab Rabbits" and have a chat room dedicated to them online. The mission of Lab Rabbits is to ''multiply," Kristin said.
Their success has encouraged growth, and growth requires more space, Kristin said. As a result, the group will be moving to Canada next year, although they're not sure exactly when. They have secured a warehouse-sized space in Hamilton, Ontario. That will cost them far less than what they would have to spend to get the same amount of space in the Washington metropolitan area.
Why Canada? Andy Looney, who wears a long, thin ponytail, said he's always been a ''wild-eyed liberal," and there are ''political, cultural reasons" he is attracted to Canada.
Kristin, on the other hand, has dreams that include more than what can fit into a 1937 Victorian in College Park, she said.
''We need a big building with a coffee shop and a gaming parlor," she explained.
But what about the Wunderland Toast Society and everyone who has helped shape Looney Labs? Four marriages have come from people who met at the Thursday night game parties.
Liam Bryan of Takoma Park, who has been gaming with the Looneys for several years, said the move to Canada will be a big loss for area fans. Bryan found the Looney crowd through friends when he was living in Ashville, N.C., and decided to attend a game convention in Ohio. He ended up in a Fluxx tournament, where he was voted ''the coolest player" by the other Fluxx players.
''That was a defining moment," Liam said. ''I had tears in my eyes."
Kristin Looney said that although they are leaving, College Park will always be their home. They will keep an office here, staffed by Luisa, and will visit often.
Liam said that although the Looneys are leaving, their legacy will live on in the Wunderland Toast Society game night, which will now be held in Adelphi at the home of a couple who are, believe it or not, ballroom dancers! The couple has a ballroom in their home, he said, so there is plenty of room. The games will go on, Liam said.
Email Meghan Mullan at mmullan@gazette.net